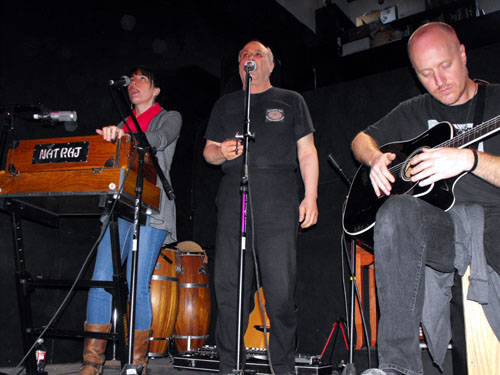 Left to Right: Moksha Sommer, E.J. Gold, Jemal Wade Hines. On stage during HuDost's visit to the studio during their national tour.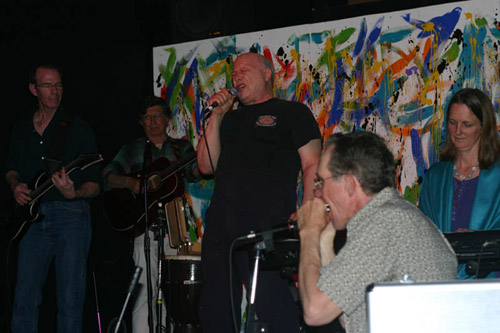 Left to Right: Jim Rodney, Iven Lourie, E.J. Gold, Robbert Trice, Nancy Burns.
On stage with codger band Faxl.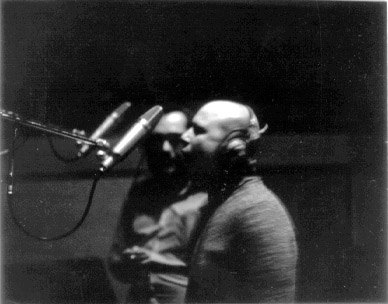 Singing a duet with Ron Matthies, RCA Studios 1972, Al Schmidt Producer, Ritchie Schmidt & Dick Bogert, engineers. Album: RCA Live.
When I was a kid growing up in New York City during the 1940s and 50s, I went to Downtown Community School, a small private school that had, as its music teacher, Pete Seeger. I sang with Pete for 11 years both there and at Camp Woodland. I have published a book on it. Singing is a very important part of life, and if you don.t sing, you.re not getting everything out of life that you should be able to.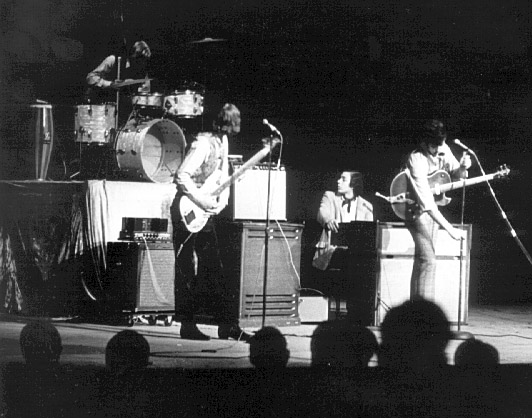 Our group, the LA Warlocks, performed here at Spectrum 2000, Gazarri.s, Whiskey a go-go, Hullaballoo and other LA venues. Jerry Garcia.s SF Warlocks changed their name to Grateful Dead when they found out we were playing the clubs around town.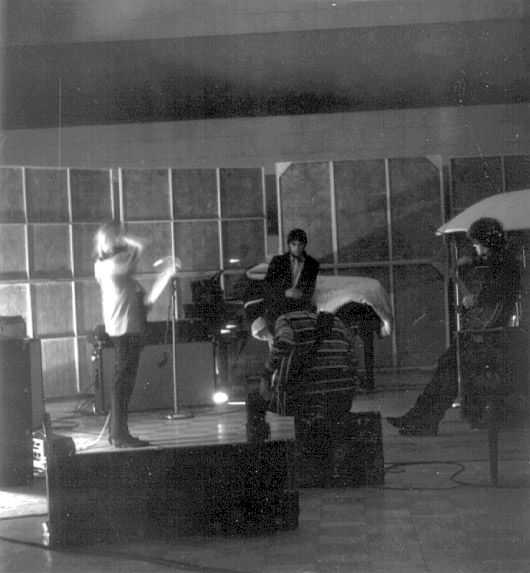 I was a singer at the time, but here.s a snapshot I happened to take in natural light, with a Mamiyaflex 2 1/4. x 2 1/4. medium format twin-lens reflex camera at about f 4.5, hand-held at 1/5 second exposure on tri-x asa 400 film, back on Halloween evening, 1967. Few people knew or remember now that Jerry Garcia did a lot of work on the Jefferson Airplane albums at RCA; he also worked on several of my albums, also at RCA, in 1967, 68 and 1972.
Singing is about breath, timing, phrasing, feeling and much, much more. I learned a lot from Pete Seeger, Bob and Louise deCormier, Grant Rogers and many blues and folk singers of the time, all of whom visited our school as guests of Pete Seeger. You can see a lot of what we saw and heard on .Rainbow Bridge. videos, if they.re available anymore, or look on youtube for some Pete Seeger Rainbow Bridge telecasts.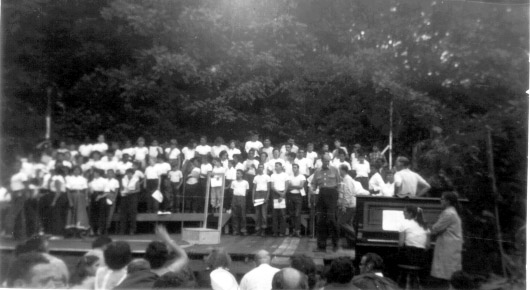 We are onstage singing the cantata .Lonesome Train. about Abe Lincoln.s assassination in 1865 and the subsequent train ride of the casket from Washington DC to Illinois, for burial. You can see Bob & Louise deCormier, Norman Studer, Pete Seeger & me in the picture, taken by my mom, Eve, summer of 1953, if I.m not mistaken. Pete has corrected many dates, times, places and people entries in my book . he signed his corrections with a tiny banjo & his name, a long-time habit.
That.s me on the left of camera, at a Vancouver, BC recording studio singing the lead parts for .Black Sheep. and .Seance., a double musical revue we performed at the Queen Elizabeth Theatre. The recordings of both Black Sheep and Seance are available, but you have to order them to get them. They might be available on CD Baby for all I know.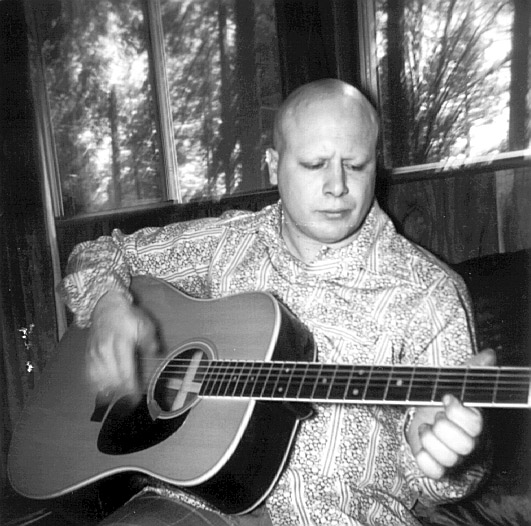 Singing is more than just letting off some steam, or getting into a groove. There.s breath involved, and where there.s breath, there.s God-Realization.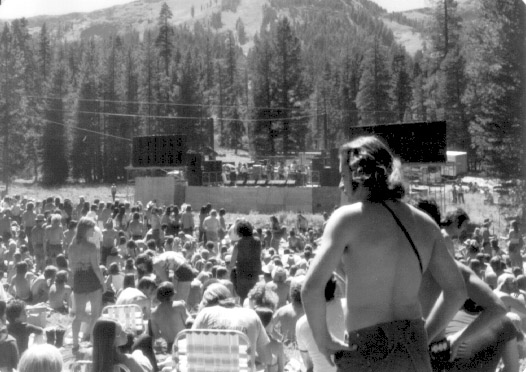 Lastly, here.s a photo of a Love-In at which I.m singing .Feelin. Alright., performing with my band, the LA Warlocks, now long-defunct, sometime in summer of 1968, as I recall.