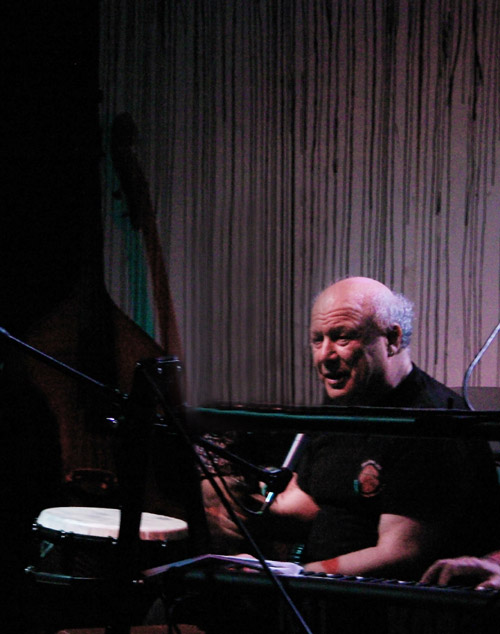 When asked where they get their ideas from, songwriters and musicians will often say something like, they "pluck it out of the air." It's something out there waiting to be found. Good writers have a knack for tapping into this creative current. E.J. Gold exemplifies this to an incredible degree.
I once witnessed him make up the lyrics to seven songs one after the other in the amount of time it takes to play the song. He sang them and composed them on the spot, took a short break then rattled off another six songs to complete the evening. These lyrics were poetic, thought provoking, and told a story. The album is called Ride That Carousel.
Gold's ability to improvise musical content of aesthetic quality instantly, extends as far as learning a new instrument. A few years ago he was given a beautiful brand new Gemeinhardt flute. Although a self-taught saxophone player, and proficient on the recorder, he had never played a flute before. He came in to the recording studio, and said "Let's record and see what happens." Not only able to produce a solid consistent tone out of the instrument, E.J. ended up improvising an hour's worth of exceptionally good solo flute music that was released as the album Inside/Outside.
I once gave Tom Waits and his wife Kathleen a copy of his gaming cd called In Your Face. They asked if his teachings were contained in the songs. I thought for a second, no one had asked me that before, and replied, yes they are. Not only is his music engaging and fun to listen to but it also contains valuable insights and information regarding the work he's here to accomplish. A spoonful of sugar, ie entertaining music, does help the medicine go down in a most delightful way. Often it's not the lyrical content communicating deep metaphysical wisdom but rather the mood the music creates that shifts the listener's perspective into new territory.
Every week on Monday afternoon E.J. Gold leads his band Faxl through a two hour journey of improvisation and experimentation. Whenever I'm there to help engineer these sessions I gain new insights into my life's work and into the common work of the whole group. It sometimes seems like a radio transmission of higher intelligence presented in the ordinary guise of a group of dedicated musicians casually singing and playing in the homespun comfort of their living room.
Oz Fritz, Grammy award winning engineer for Tom Waits, Primus, and over 60 projects with Bill Laswell.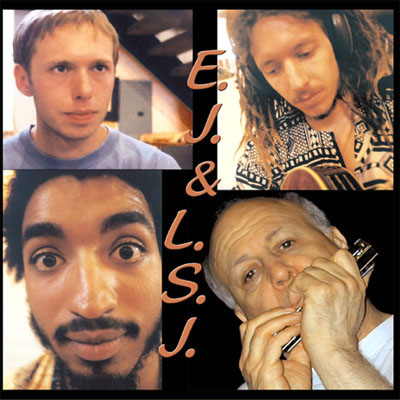 Cover for jazz CD released in 2006 with E.J. Gold (lower right) collaborating with three dynamic young musicians -- Justin Lowis (upper left), Aja Salvatore (upper right) and Isaac James (lower left). Lowis was a music major in university. Both Salvatore and James have separately traveled repeatedly in Africa playing with and recording local musicians particularly in West Africa. The foursome blending brings to this CD numerous original material as well as vibrant covers of some of the old jazz standards.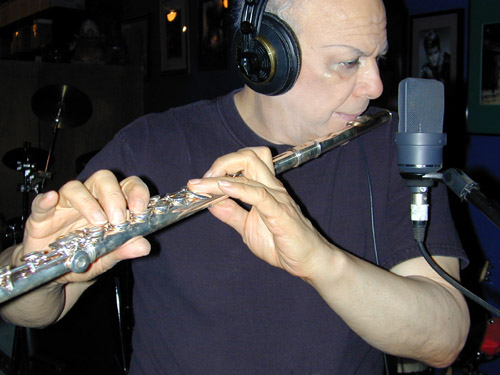 Taking up the Gemeinhardt flute immediately after receiving it as a gift, E.J. Gold goes into his private studio to record spontaneously inspired original compositions with studio engineer, Oz Fritz. The CD produced is entitled Inside Outside and was released in 2006.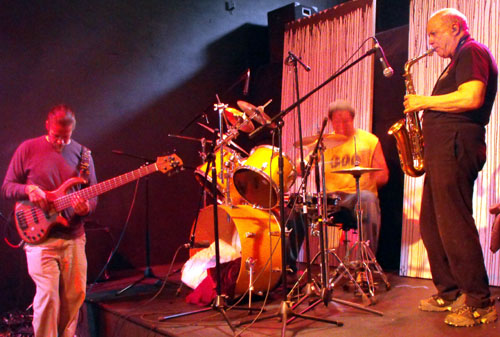 "Bassist Jared May and drummer Isaac James improvise a funky groove with E.J. Gold adding melody lines and riffs on the alto sax. The recording session was engineered by Oz Fritz manning the board in Studio B at Cloister Recordings."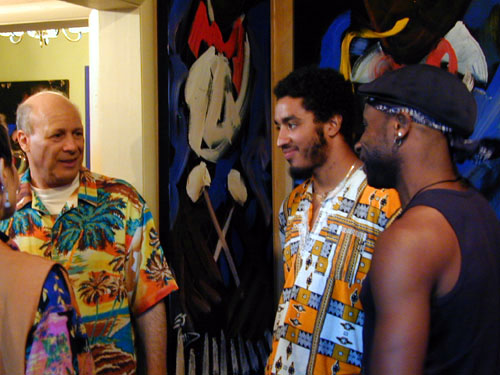 Central African recording artist Borrina Mapaka, Isaac James, and E.J. Gold take a break from one of the many musical jam sessions that took place at E.J. Gold Fine Art gallery in downtown Grass Valley, California.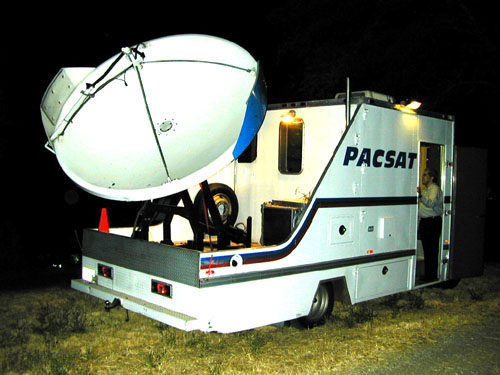 CNBC's satellite uplink truck arrived at 2 a.m. Friday, Aug. 6th, 1999 to broadcast the Insane Investors Club performance.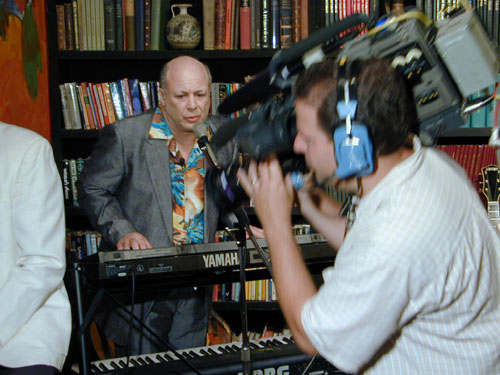 E.J. Gold of the Insane Investors Club rocked the 4th anniversary celebration of CNBC's early morning stock market program Squawk Box, on a live global network T.V. broadcast to over 150,000,000.